LRC Regional Queensland Tour 2019 - Summary Trip Report
Introduction
After completing an extensive trip report of 39 pages (without pictures) for an extensive trip, I decided to publish a summary edition.  This is now the summary of that summary edition.
If anyone wants more information on the specifics of the trip I can send it to you.
Paulette and Eric Rigter have also written up their impressions of the trip.
Tour Group
| | | | | |
| --- | --- | --- | --- | --- |
| Surname | First Pax | Second Pax | Vehicle | Accommodation |
| Speldewinde | Russell | Sharron | Discovery 4 | AOR Quantum |
| Blagdon | Garry | Kerryn | Discovery 3 | Modcon Forward Fold |
| Darke | David | Ann | Prado 120 | Aussie Swag |
| Greet | Chris | Christine | Defender 130 | Rear Fold |
| MacDonell | Brian | Diana | Landcruiser LC200 | Kimberley Karavan |
| Rigter | Eric | Paulette | Prado 150 | Kimberley Camper |
| Waples | Ross | Monica | Discovery 2 | Ultimate |
| Williams | John |   | Ford Ranger | Bunker Tent |
Planning
This trip was discussed with a couple of club members and then seemed to snowball before being finalised and advertised.  It was initially set up as a 6 vehicle trip but expanded to 8 vehicles.
Essentially the trip took in hinterland Qld before heading up the Cape and returning via Gulf and Outback Queensland.
The trip was designed with several distinct stages and I planned and arranged accommodation through to Mt Isa.  At that point we would have a better idea of who would be continuing on the last part of the trip and it would be more flexible with accommodation arranged as needed.
The 5 stages were: Inland Way to Mareeba; Mareeba to the Cape and back; Savannah Way to Mt Isa; Outback Queensland to Thargomindah; Travel home.
Please scroll down to more details of each stage, including a gallery of photos for each stage.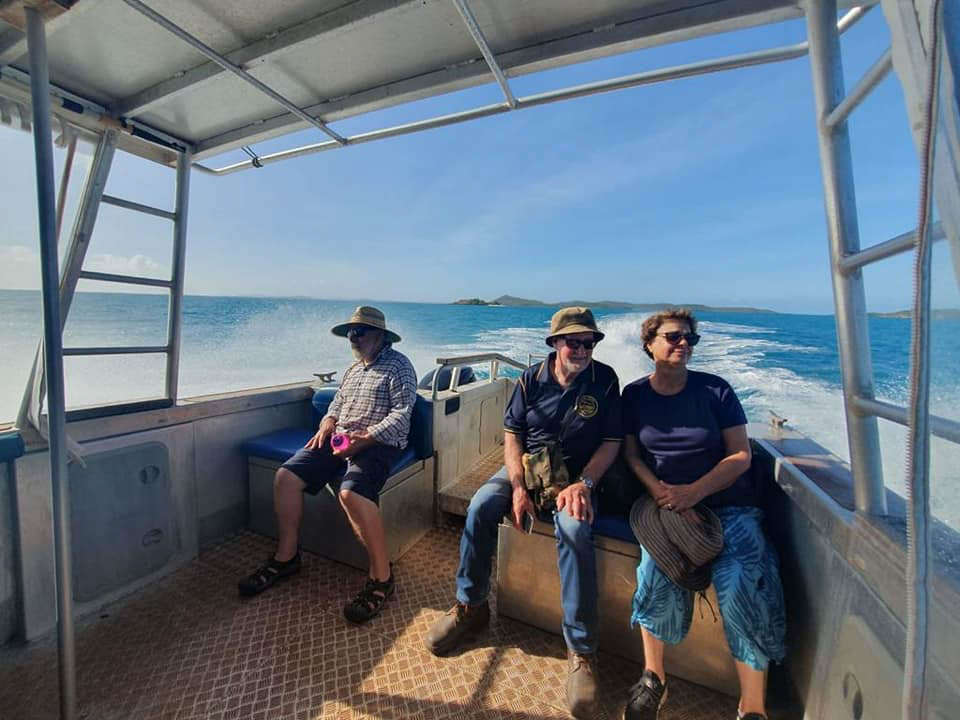 Memorable moments
Group Dinner at Lightning Ridge
Catching up with Dawn and Errol at Roma
Paulette's and Monica's camp oven apple and rhubarb cake at Theresa Creek Dam
Undara Men's shed
Dave from Ringers Rest eye catching performance
Merluna Dinner and Men's Shed
The Weipa fish feast off the back of Greety's fishing expedition
The day trip to the Tip
The 3 island cruise
The Bagman at Bramwell Station
Cobbold Gorge
Sunsets at Weipa, Loyalty Beach and Karumba
Sunrise and wind at Chilli Beach
Lawn Hill and Adels Grove
The Boulia Camel Races
Relaxing at Kalpower Crossing, Kilcowera and Rose Isle Station stays
Pop-riveting and Anderson Plugs
A big thank you to Paulette for the Tour scarves and pillow cases and to David for the Tour mugs (no, not me) and stickers.  Very much appreciated.
Detailed Itinerary and Gallery for Each Stage of the Trip
Stage 1 Itinerary
| | | |
| --- | --- | --- |
| Date | Depart | Destination |
| | | |
| 01-Jun-19 | Several places | Lightning Ridge |
| 03-Jun-19 | Lightning Ridge | Nindigully |
| 04-Jun-19 | Nindigully | Carnarvon Gorge |
| 06-Jun-19 | Carnarvon Gorge | Theresa Creek Campground |
| 07-Jun-19 | Theresa Creek Campground | Charters Towers |
| 09-Jun-19 | Charters Towers | Undara |
| 12-Jun-19 | Undara | Mareeba |
Stage 2 Itinerary
| | | |
| --- | --- | --- |
| Date | Depart | Destination |
| 14-Jun-19 | Mareeba | Musgrave Roadhouse |
| 15-Jun-19 | Musgrave Roadhouse | Merluna Station stay |
| 16-Jun-19 | Merluna Station stay | Weipa |
| 19-Jun-19 | Weipa | Bramwell Junction roadhouse |
| 20-Jun-19 | Bramwell Junction roadhouse | Captain Billy Landing |
| 22-Jun-19 | Captain Billy Landing | Eliot Falls/Twin Falls |
| 23-Jun-19 | Eliot Falls/Twin Falls | Loyalty Beach |
| 27-Jun-19 | Loyalty Beach | Bramwell Station |
| 28-Jun-19 | Bramwell Station | Chuulangan Campground |
| 29-Jun-19 | Chuulangan Campground | Chilli Beach |
| 01-Jul-19 | Chilli Beach | Archer River Roadhouse |
| 02-Jul-19 | Archer River Roadhouse | Laura Pub |
| 03-Jul-19 | Laura Pub | Kalpower Campground Lakefield |
| 04-Jul-19 | Kalpower Campground Lakefield | Endeavour River Escape Cooktown |
Stage 3 Itinerary
| | | |
| --- | --- | --- |
| Date | Depart | Destination |
| 07-Jul-19 | Endeavour River Escape Cooktown | Ravenshoe Tall Timbers |
| 08-Jul-19 | Ravenshoe Tall Timbers | Cobbold Gorge |
| 10-Jul-19 | Cobbold Gorge | Croydon |
| 11-Jul-19 | Croydon | Karumba |
| 13-Jul-19 | Karumba | Burketown |
| 14-Jul-19 | Burketown | Adels Grove – Lawn Hill NP (Boodjamulla) |
| 17-Jul-19 | Adels Grove – Lawn Hill NP (Boodjamulla) | Mt Isa |
Stage 4: Outback Queensland
Stage 4 Itinerary
| | | |
| --- | --- | --- |
| Date | Depart | Destination |
| 20-Jul-19 | Mt Isa | Boulia |
| 22-Jul-19 | Boulia | Bedourie |
| 23-Jul-19 | Bedourie | Birdsville |
| 25-Jul-19 | Birdsville | Innamincka |
| 27-Jul-19 | Innamincka | Thargomindah |
Stage 5 Itinerary
| | | |
| --- | --- | --- |
| Date | Depart | Destination |
| 28-Jul-19 | Thargomindah | Kilcowera Station |
| 31-Jul-19 | Kilcowera Station | Rose Isle Station |
| 02-Aug-19 | Rose Isle Station | Canberra |