The Driver Training Group
Gundaroo Training and Introductory Trip, Sunday 2 August 2020
Trip Leaders: Tom de Jongh, Ian Toten & Michael Thomson
Attendees:
Bob & Margaret Anderson, Perentie
John Bockwinkel, Mazda BT50
Matt Bolton, Toyota LC200
John & Margaret Cooper, VW Amarok V6
Pat Cotterill, Toyota LC200
Tom de Jongh, Mitsubishi Triton
Guy Engelsman with Marcus, Ford Ranger
Ann Gibbs-Jordan, Nissan Patrol
Paul & Kaylene Koppe, LR Discovery 2 TD5
Chris Orman, LR County V8
Jim Orman, LR County V8
Susan Paterson, LR Defender 300Tdi
Michael Thomson, LR Range Rover
William & Tiffany Thomson with Lily & Zoe, LR Defender TD5
Ian & Nicole Toten, Jeep Wrangler
Simon Turner, LR Defender TD5
Peter Vickery, Skoda
Gemma & Bob Zeitlhofer, Toyota LC 200
and Mike Leys, visited us at Gundaroo Park
Report
9:00 am at Gundaroo Park was a cold foggy place to meet, but we all made it by 9:15.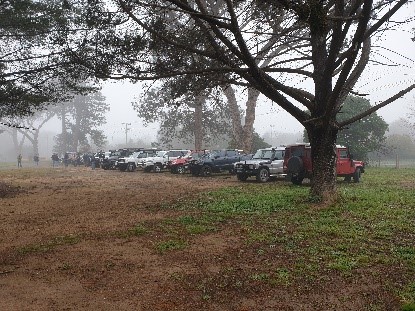 After a quick introduction, Tom gave everyone a reminder about convoy procedure, we distributed radios and set off for the training area.
Morning tea, in improving sunshine, a quick Covid friendly 4wd explanation, a recovery gear show and tell, and walk around of training wombat holes and creek crossings. Each driver had a try at navigating the hazards we had built (I am sure those wombats have been filling in the holes).
Differences in traction control systems, or lack of, saw some drive through the holes without issue, while others took a few tries at getting just the right momentum to maintain forward travel.
Tom took a number of the manual drivers through safe hill stall and restart procedures.
Lunch eaten, and kids recovered from the wet wombat holes and creek, then we set off for a short drive along rough bush tracks to a downhill fire trail complete with erosion mounds. A new experience for some. Peter abandoned his Skoda at the top, and took ride in a higher clearance vehicle.
Afternoon tea among the tussocks, then back up the fire trail, and along another bush track till we joined the road out. William and family left the group at the tussock paddock to go and visit his uncle (who's property we were on). Michael left the group (to visit his brother) as participants headed out on the (not so) main road.
4:15 back at Gundaroo. A fun & enjoyable day had by all, and I understand that some drivers even added their first bush pinstripes to their new 4WD!
Thanks to Gemma, Paul & Ann for the trip photos.
Michael Thomson